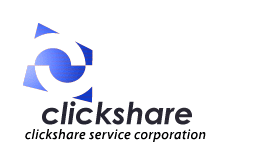 Newshare(SM): Interim Publishing Membership
Enrollment Information
This page describes the benefits of Newshare publishing membership using the Clickshare Service. After you have read this page, link directly to our ENROLLMENT FORM, or first review our list of Frequently Asked Questions.
Newshare Corp. is accepting applications for immediate enrollment as a Contributing Member. Acceptance entitles the charter Contributing Member to:
Use of the Newshare name, logo, links and service concepts on an exclusive basis within the Contributing Member's geographic-specific or topic-specific content area.
A free subscription to the Newshare-UPDATE E-mail list which is for content-providing members only. The list will include a weekly newsletter updating events and developments in online publishing written by Newshare personnel and contributors.
A listing within the Newshare W3 Contributing Member Directory. This listing includes the Contributing Member's name, address, appropriate contacts, a description of exclusive content provided, and a hypertext link to member content, wherever it resides.
Premium listing and promotion for your content on the appropriate Newshare Syndicate Topics Page. Our topics pages are a regularly updated source of more than 1,500 links to publicly available resources in more than 80 content areas. If you are not granted Newshare membership, you will not be eligible for premium listing in our topics directory.
A 50% discount off the one-time, $795.00 enrollment as a Newshare Publishing Member. By allowing Newshare Corp. to host your content and manage your customer billing, you can sell content on the web without having to establish an account relationship or take credit-card information from every user. To host your own content or manage your own users, you should contact Clickshare Service Corp. and become a Clickshare Content/Service Provider.
The Contributing Member relationship with Newshare(SM) and other Publishing Members is governed by an Affiliation Agreement which resolves copyright and use issues.
---
NEWSHARE QUICK LINKS TO:

WELCOME PAGE / SYNDICATE CONTENT / LEAVE A COMMENT
---
A page describing options for users and advertisers of Newshare is available via http://www.newshare.com/Newshare/options.html
---
For more information about Newshare, please select from the following:
The Corporate Office of Newshare:

NEWSHARE CORP.
75 Water St., P.O. Box 367
Williamstown, MA 01267-0367 USA
VOICE: (413) 458-8001
FAX: (413) 458-8009
EMAIL: mail@newshare.com
this page updated 05-04-2002 12:05 p.m.