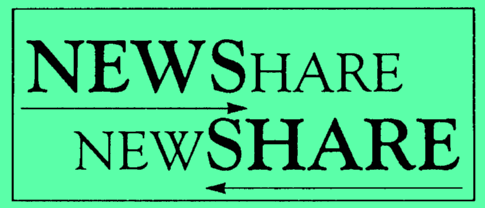 The Internet's first news broker
Delivering your share of the news
Welcome to Newshare
---
We are a Massachusetts-based supplier of interactive media products to newspapers, broadcasters and the public through the Clickshare(sm) System for billable hypertext links, the Newshare(SM) Syndicate, the Newshare(SM) Common Resource Center and, next year, Newshare(SM) Adshare. The pages linked below describe our corporate mission.
---
---
Some of the links you'll find here are intended only for those who have signed our non-disclosure agreement. If you're interested in Newshare's future, we invite you to sign and return one.
---
Newshare is establishing a nationwide electronic brokerage for the multi-media collection, editing, moderation and marketing of time-sensitive, general-interest news and advertising. Material will be organized both geographically and by interest area for direct consumer use. Content-provider memberships to Newshare are available. Tentative pricing information is available at the Newshare Syndicate Member Info page. User membership is presently free.
The service architecture of Newshare is based on, and draws its strength from, the Internet's ability to support a distributed network of providers and customers as well as open interfaces.
Newshare is seeking potential content partners or affiliates through a Request For Proposals process. We are very interested in developing relationships with non-traditional news providers (such as Internet newsgroup operators, BBS operators, small news organizations, Internet Service Providers, magazines, specialty information providers and entrepreneurial individuals and companies whether large or small, for-profit or not-for-profit) as well as with traditional media enterprises.
For more information about Newshare, please select from the following:
The Corporate Office of Newshare/DBS:

75 Water St., P.O. Box 367
Williamstown, MA 01267-0367 USA
VOICE: (413) 458-8001
EMAIL: mail@newshare.com

---