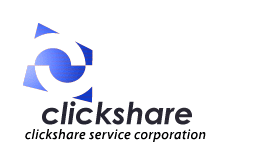 The Internet's information brokerage
The Newshare/Clickshare Concept Summary
---
Copyright, 1996, Newshare Corp. All Rights Reserved
WHAT IS A NEWSHARE(sm)?
A "newshare" is an editing organization which provides time- sensitive information to users targeted on the basis of their topical or local interests. "Newshares" possess a license to use the Newshare(SM) name, logo and Clickshare(sm) registration, validation, profiling and micro-transaction settlement system. They transport content over digital networks, presently the Internet, and deliver it in whatever form the consumer requires -- on paper, on screen or by audio reproduction.

Newshare is a U.S.-registered service mark of Newshare Corp.
WHAT IS CLICKSHARE(SM)?
Clickshare(sm) is a system for registering, validating and profiling Internet information users which enables the buying and selling of information among widely distributed, independent users and publishers. Clickshare(sm) solves the problem of completing micro-transactions economically and securely across the Internet. Clickshare(sm) is enabled through Internet server software available from Newshare Corp. and through a transaction-settlement backbone operated by Newshare Corp. It does not require any special end user software.
Clickshare(sm) is designed to clear transactions too small to be economically feasible via a credit card, since a credit card transaction involves typically 2% of the principal plus a transaction fee of 25 cents or more. The idea of Clickshare(sm) is to aggregate many small per-page charges and apply them to a credit-card, conventional credit (paper billing) or ecash account on a periodic basis, probably monthly, so that the profit margin is not eaten away by the 25 cent credit-card transaction charge (or the 32 cents of mailing a paper bill). So Clickshare(sm) is INTENDED to work UNDERNEATH and in collaboration with ecash and credit-card implementations.
Clickshare is a U.S.-register servicemark of Newshare Corp.
WHAT IS THE INTERNET?
The Internet refers to a worldwide base of business, research, academic and consumer computer systems. They are able to exchange information across networks built, owned and controlled by many different entites because they share common technical standards for digital information exchange. This common technical standard is abbreviated as TCP/IP. The Internet is NOT a single network. It is more precisely a protocol for connecting networks so that they exchange information in a uniform fashion. Think of it as a common "language" for information exchange.

The are two problems slowing the development of Internet information commerce:
PROBLEM NO. 1: HOW TO FIND IT?
At present the Internet resembles a library without order. A few organizations have sprung up (Yahoo, Lycos etc.) to provide a functional "card catalog" for the millions of pieces of information available for free on the Internet. But no one to our knowledge has stepped up to the task of providing a "reference desk," for all of these free and paid resources.

The Newshare(sm) System and its partner Publishing Members (PM) will fill this void. They will maintain a "top level" categorization facility. Designated topic-specific and local Publishing Members will digest, summarize, edit and add value to this content, delivering it to its own base of users, and optionally to the users "owned" by its Publishing Members.

Newshare Corp. will also provide a uniform "search" facility for Clickshare(sm)-enabled resources through a strategic-partner relationship.
PROBLEM NO. 2: HOW TO BILL IT?
Under the "phone system" model we all are familiar with, the customer pays a flat monthly rate for access to the network and additional, discrete charges for "conversation." These charges are billed based on time. Likewise, a user of the Internet pays to be connected to the network -- like paying to have "dialtone." A few Internet information providers are beginning to ask that users "register" and pay a content flat fee for unlimited amounts of information provided above and beyond this "dial tone." However, no entity has advanced a system for aggregating the information-unit charges of multiple content providers.

The Clickshare(SM) System fills this void for consumers in a transparent fashion as simply as one makes a long-distance telephone call or charges an item to a credit card. The Clickshare(SM)-enabled user can have a credit/account relationship with a single Newshare Publishing Member (or with Newshare itself) and yet obtain seamless access to copyrighted information from a world of other Clickshare(SM)-enabled content providers -- newspapers, magazines, newsletters, trade publishers, broadcasters and "new media" entrepreneurs.

Newshare's Clickshare system validates users, tracks their content requests and provides the user's home-base Publishing Member with billable records. Newshare "wins" by obtaining small transaction fees on each transfer of information.
Publishers (we call the Publishing Members) win because Clickshare permits them to augment their content with information from hundreds of other Publishing Members.
The user wins by having a simple way to obtain information customized to his or her interests -- and by not having to manage account relationships with dozens of different information vendors.
Writers and other creative artists win because Clickshare(sm) provides them a mechanism for retaining physical and copyright control of their work and yet market it either directly to the public or via publishers.

Clickshare permits a user to have a single logon ID and password governing access to potentially hundreds of independent information resources, just as a credit card permits purchases at a wide variety of retail shops.
Internet users who seek order amid information chaos will find it via a series of custom "Newshares" organized by topics or geography served. But each Newshare has the ability to reference content of other newshares. The Newshare system is our proprietary application of the Clickshare(sm) System to the news industry. Clickshare(sm) can be used in other areas as well, such as medical, education, business information and the like. We believe Clickshare(sm) will also be applied to the sale of disposable software "applets."
WHERE DOES THE MONEY FLOW?
Users are billed for their information acquisition at least monthly by their home Publishing Member. From that charge, the home base receives a commission in each information purchase for managing the user; the providing publisher receives a royalty and Newshare Corp. receives a transaction fee. Providing the home Publishing Member a commission creates an incentive for that home base to offer "links" to remote publishers' content. This has been called "billable hypertext links."

RETURN TO CONCEPT SUMMARY PAGE

---
NEWSHARE QUICK LINKS TO:

NEWS TOP / WORLD NEWS / STATE NEWS (U.S.) / LOCAL NEWS / SPORTS / BUSINESS / WEATHER / TOPICS / WHAT'S NEW / SYNDICATE / CLASSIFIEDS / LEAVE A COMMENT
---