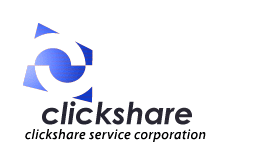 Delivering your share of the news
Clickshare(sm) User Membership
---
Clickshare(sm) is an enabling technology that will allow you, the individual user, to view and purchase information at widely dispersed Internet locations and from independent publishers -- with the simplicity of a single user ID and password.
In some cases you will pay nothing for this information.
In other cases you may be asked to pay a monthly subscription fee for access to a body of content.
And in still other cases, you may be offered the chance to purchase words, pictures or sound "by the click," with payment being charged to a single account at your Clickshare(sm) home base.
All of this is possible with Clickshare(sm). The Newshare Syndicate and the Newshare Common are two users of the Clickshare(sm) system. But Clickshare(sm) as a registration, validation, personalization and payment system can be applied to the purchase of software, periodicals, documents and records, not just news.

The Newshare Syndicate is designed as a resource center for consumers and publishers . . . and as a marketing environment for artists, writers and other original content originators.

The Newshare Syndicate and Newshare Common have a goal of becoming the leading source for high-quality, timely, local, regional, national and international news and information.
---
Check with your favorite Internet publication or web site to see if they offer Clickshare(sm) membership. If they do not, go to our Clickshare registration site to find an appropriate topic-specific or geographic-specific sponsor.
Newshare User Membership: Right now, membership is free. You merely register using our Clickshare(sm) three-step profiling system.
Newshare User Members will:
Have an extremely high degree of control over how news content is delivered to them and in what form...
Have access to the major centers of activity on Newshare.
Have access newspapers, publications, newsletters and other content in various forms available through Newshare.
Note: In some cases access may be fee based but not until at least Jan. 1, 1996, and you will be specifically notified and asked to authorize a change in your account status to fee-paying before this change occurs.
They will be able to select the advertising content they choose to review...
Have their online profiles and travels secure from unathorized use...
---
Newshare User Membership:
Newshare User Members agree:
To view and use content for personal use only. No resale, repackaging, copying, redistribution rights of any kind are associated with your becoming a Newshare User Member.
---
NEWSHARE QUICK LINKS TO:

| NEWSHARE/CLICKSHARE CONCEPT | VISION 1997 | NEWSHARE/CLICKSHARE NEWS | NEWS TOP | TOPICS | WHAT'S NEW | HOME PAGE | LEAVE A COMMENT
---
Newshare and Clickshare are service marks of Newshare Corp.
Copyright, 1995, Newshare Corp. All rights reserved.
---
Newshare Corp.
One Bank St., P.O. Box 367
Williamstown, MA 01267-0367 USA
VOICE: (413) 458-8001
FAX: (413) 458-8002
EMAIL: mail@newshare.com


l check or as a charge to your credit card.

To join Newshare as a Newshare User Member, please use our Reply Form or send an e-mail request to: user@newshare.com.

If you seek to post, repost, publish, forward or otherwise circulate Newshare Publishing Members or Newshare Contributing Members material to other users or to the public, or as part of a published or otherwise circulated work you must obtain permission or join us as a Newshare Publishing Member. Find out more about Publishing and Contributing memberships at Newshare right now.

All material originating from the Newshare Resource Center is (C) copyrighted, even if available at (FREE) no charge, unless marked as (PD) to signify Public Domain.

Newshare User Member membership does not require that you connect to any particular Internet service provider (although those of you in the Western Massachusetts region might consider Crocker Communications), or use any particular client software.

To learn about our plans for news personalization at Your Newshare coming soon to Newshare.
---
To Membership...
To Common...
To Corp HQ...
---
NewshareWWW site is a service of Newshare Corp.. a Massachusetts-based broker of digital information for newspapers, broadcasters and the public.
---
If you have comments or suggestions about Newshare Resource Center, please email them to feedback@newshare.com.
The Newshare name is a service mark of Newshare Corp.
Copyright, 1995, Newshare Corp. All rights reserved.
---
Newshare Corp.
One Bank St., P.O. Box 367
Williamstown, MA 01267-0367 USA
VOICE: (413) 458-8001
FAX: (413) 458-8002
EMAIL: mail@newshare.com

---
The Newshare Resource Center is sponsored in part by: Crocker Communications, a Northampton, Mass.-based supplier of Internet connectivity and telephone-answering services.