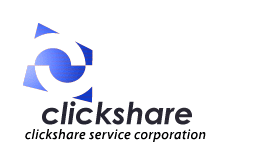 The Internet's information brokerage
---
Clickshare(sm) Publishing Members
Terms of Enrollment
A publisher or other owner of copyrighted content must obtain from Newshare Corp. or its designees a licensed copy of the Clickshare-enhanced server software. This software is available FOR FREE from Newshare Corp. and may also soon be bundled with other commercial Internet server products. This enhanced server permits user registration and profiling at stand-alone sites.
To use the cross-server validation, third-party auditing (access-tracking) and transaction processing facilities of Clickshare, the publisher must become a member of the Clickshare(sm) Service. This enables the receipt of royalty payments for the publisher's copyrighted content accessed by Clickshare-enabled users worldwide -- and the payment of commissions to the Publisher Member when its own local users purchase content from remote Publishing Members. Membership fees include:

A one-time enrollment fee of $1,995.00.

An annual fee of $3 per end-user (subscriber) for each Clickshare-enabled user. This fee is payable quarterly and the end of each quarter and is applied to the first 10,000 enabled users. Thereafter the fee scales downward in steps.

A fee of from 10% to 20% of each information purchase executed via the Clickshare(sm) system. This fee is charged monthly by Clickshare to the Clickshare Service Provider of the enabled user and may be applied to the user's account or absorbed by the publisher. A typical 10-cent purchase by a user will involve a fee of 2 cents charged to the information vendor.

Clickshare(sm) Service membership also includes:

The right to link to content of other Clickshare(sm) Publishing Members (but not to publish in print form), per the Publishing Member Ageement.
Support software -- Common gateway interface (CGI) scripts, HTML files and auxiliary programs to assist in the management of your WWW server.
A 10-25 word factual description of the Publishing Member's copyrighted content at the Newshare Common Resource Center, accompanied by a hypertext "link" that will automatically connect the user to that content, wherever it is located.
An electronic subscription to the Newshare-UPDATE, an E-MAIL for-members-only newsletter containing the latest web intelligence and electronic-publishing advice as well as technical bulletins and documentation on the Clickshare(sm) service.

A Clickshare(sm) publisher may optionally apply for membership in the Newshare(sm) Service, guaranteeing status as a "preferred link" on Newshare(sm) Common Resource Center TOPICS pages and qualifying the Publishing Member for possible selection as a lead topic-specific or geographic-specific information resource.

---
NEWSHARE QUICK LINKS TO:

| NEWSHARE CONCEPT | VISION 1997 | NEWSHARE/CLICKSHARE NEWS | NEWS TOP | TOPICS | WHAT'S NEW | HOME PAGE | LEAVE A COMMENT
---
---
Newshare is a servicemark of Newshare Corp.
Copyright, 1996, Newshare Corp. All rights reserved.
---
Newshare Corp.
75 Water St., P.O. Box 367
Williamstown, MA 01267-0367 USA
VOICE: (413) 458-8001
FAX: (413) 458-8002
EMAIL: mail@newshare.com