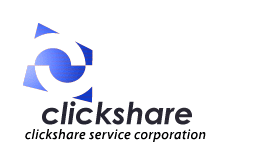 Building a free market for digital information
---
The Clickshare Launch Page at Newshare Corp.
This is the launch point for trying the Clickshare Service via Newshare Corp. Clickshare allows users to purchase information easily from multiple web sites without having to remember multiple passwords or punch in credit-card information. Clickshare's Publishing Members use the Clickshare Access and Payment Service, a breakthrough technology for tracking movements and settling charges for digital transactions by subscription or per-click -- among unrelated web sites.
From this page you can:
---
Clickshare Service Corp.
75 Water St., P.O. Box 266
Williamstown, MA 01267-0367 USA
VOICE: (413) 458-8001 / FAX: (413) 458-8002
EMAIL: corp@clickshare.com


Clickshare is a servicemark of Clickshare Service Corp.
Newshare is a servicemark of Newshare Corp.
Copyright, 1998, Clickshare Corp. All rights reserved.